9:18 am
12:44 pm
¡Vive! ¡Viveeee!
¡Vive! ¡Viveeee!
El pasado 25 Septiembre, La doctora Muerte finalizó con éxito, aunque con algún que otro contratiempo, el experimento iniciado 9 meses atrás por ambos. He aquí el hermoso resultado: nuestro hijo Héctor.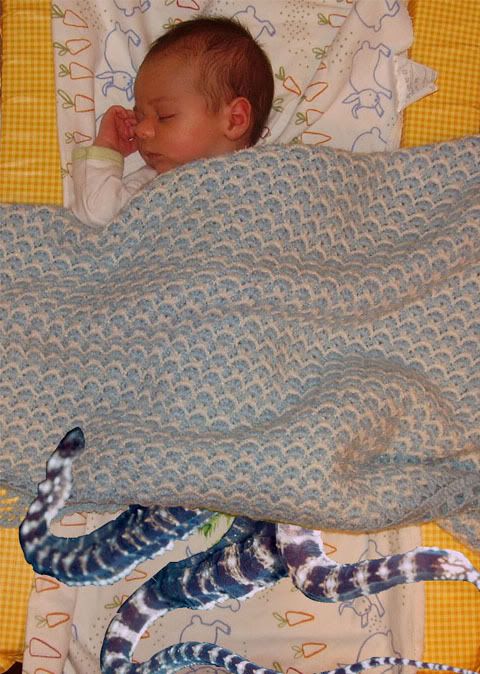 8:44 am
Oh Great Cthulhu!
I have been an extremely busy devotee this year.
In September, I recruited
clorato as a new cultist (30 points). In July, I defiled the grave of that traitor, Lovecraft (90 points). In January, I bombed a cultist gathering (-100 points). In February, I wore an Elder Sign (-10 points). In August, I burnt my copy of the Necronomicon (-75 points). In October, I sacrificed
arthegarn to Cthulhu (500 points).
In short, I have been very good (435 points) and deserve to get hooked up with one of those cute Innsmouthers.
Your humble and obedient servant,
prof_ignatius
Submit your own plea to Cthulhu!
Lo siento Arthegarn...
9:01 am
Los problemas del directo (o del "tu recto", según se mire)
Sin que sirva de precedente inauguro esta cosa, diario, "yurnal" o como diantre quiera la gente denominarlo con una perla encontrada en la red que, por no saber otro sitio (el foro de madrid siniestro no me pareció lo más adecuado por no ser un tema muy siniestro, o quizá por serlo en exceso) donde ponerlo para uso y disfrute colectivo del personal.
Os pongo en situación: 30 de junio de 2005, manifestación del foro de la familia bajo el lema "a favor de la ídem" y declaradamente en contra del matrimonio homosexual (u homosesual, como dicen ellos tal vez por pudor). Un comentarista desplazado, integrante de una unidad móvil de la inefable emisora COPE, entrevista en directo a una de las manifestantes, una tal Margarita. Aquí va el audio de su actuación estelar:
Si tenéis problemas con el audio, decídmelo.
Para mear y no echar gota